"QUALITY TO YOU"
"Trust in the Lord with all your heart; do not depend on your own understanding. Seek his will in all you do, and he will direct your paths." PROVERBS 3:5-6

MISSION STATEMENT:
OUR MISSION IS SIMPLE. WE WANT TO PROVIDE ALL OF OUR CLIENTS/CUSTOMERS QUALITY REPORTS IN A TIMELY MANNER AND IN COMPLIANCE TO THE UNIFORM STANDARDS OF PROFESSIONAL APPRAISAL PRACTICE (USPAP).
ABOUT US
Appraising residential property for 14 years. Providing date of death evaluations, market valuations, divorce & estate appraisals.
We cover the counties of Atascosa, Bexar, Bandera, Guadalupe, Hays, Comal, Caldwell, Wilson, Williamson, Medina, Atascosa and other surrounding counties in Texas. Average turnaround is 2 to 5 days from time of appointment and depending on location, size and complexity of the property. Rush order appraisals are also available at an additional fee.
If you have any questions or you would like to order an appraisal, please call 210-237-8930 or email us at Abquestappraisal@aol.com.
Our fax number is 1-866-670-6909 or use our online order form right here on our website.
---
---

ARE YOU SELLING YOUR HOME?
We can help you to determine an optimal list price.
---
THANK YOU TO THE MEN AND WOMEN OF THE ARMED FORCES. TO SHOW OUR APPRECIATION FOR YOUR SERVICE TO OUR COUNTRY, WE ARE GIVING A $25.00 MILITARY DISCOUNT ON FULL APPRAISALS. GOD BLESS YOU AND GOD BLESS THIS COUNTRY.

We are also offering a $25.00 discount of full appraisals to Texas Public Radio members.
---
Las Lomas Subdivision San Antonio, Texas
The graphs below was utilized to show Sales/Listing Amounts and Sales Price and the Sales/List Price Ratio for a 1 year period 2/2011 - 2/2012 in the Las Lomas Subdivision in San Antonio Texas. Data Source: SABOR; Software: NCV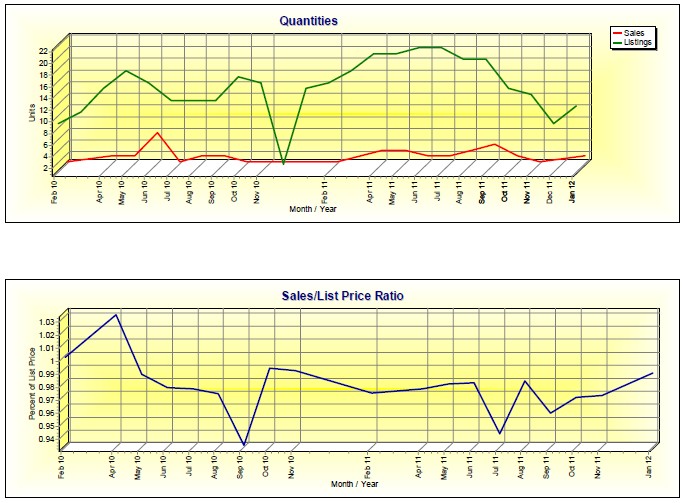 ---

Ridgeview Subdivision, San Antonio Texas
The graph below was utilized to show the relationship between Sale Price & List Price for a 1 year period 5/25/2010 - 5/25/2011. A total of 52 sales. Data Source: SABOR.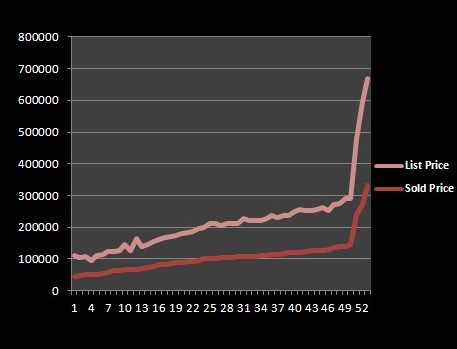 ---
Available For Small Group Speaking Engagements. Please call for pricing.

APPRAISAL FEES
URAR - SINGLE FAMILY RESIDENCE
$300 - $450 (Depending on Size & Complexity)
DRIVE BY EXTERIOR
$225
MULTI-FAMILY
$450 - $600

1004 MC
$100
OPERATING INCOME STATEMENT
$150
VACANT LOT
$225 - $350 (Depending on Size of Lot)
CERTIFICATE OF COMPLETION
$125

DESKTOP (RESTRICTED USE) VALUATION
$125

ALSO, CONDOMINIUMS & REO.

***ADD $50 FOR ANY OTHER FORMS IN ADDITION TO REPORT***
***ADD $100 FOR RUSH ORDERS
***FEES SUBJECT TO CHANGE
***CALL FOR FEES NOT LISTED
**C.O.D. PAYMENTS ONLY, UNLESS OTHER ARRANGEMENTS ARE MADE. WE ACCEPT CHECKS, CASH, MC AND VISA.
**ASK ABOUT COMMERCIAL APPRAISALS.
APPRAISER:
ANITA BATTY-APPRAISER (TX-1338134-L)

Shirley Conquest - Office/Accounting Manager

---
---
E&0 INSURED
$5.00 Credit Card Processing Fee
Growing List of Satisfied Clients
---
S. Morabito, M. Morabito, Medina County Texas - Market Valuation
F. Hewitt, Guadalupe County Texas - Land Appraisal
Attorneys Bryan A Lowe & Associates, Guadalupe County Texas - Date of Death Valuations
Oscar Villarreal Attorney at Law, Bexar County Texas - Market Valuation
Sharon Newman, Bexar County Texas - Date of Death Valuation (For Tax Purpose)
Jac & Dawn Spring, Caldwell County Texas - Market Valuation (For Sale By Owner)

---
---
---
---

THE DEFINITION OF AN APPRAISAL:
An appraisal is the act or process of developing an
opinion of value as defined by USPAP (Uniform
Standards of Professional Appraisal Practice).
WHO NEEDS AN APPRAISAL?
Buyers and sellers of real estate, mortgage companies, rehabbers, land developers, real estate attorneys needing "Date of Death" valuations, divorce, bankruptcy, bail bondsman. We provide ad valorem tax consulting,new construction, proposed construction, appraisals of vacant land, single-family, multi-family properties, REO appraisals and more....
WHY SHOULD YOU CHOOSE US AS YOUR APPRAISAL SERVICE?
I am not just an Appraiser, I am an Appraisal Practitioner. The field of real estate appraisals is an ever changing industry, so I am constantly studying, utilizing technology, practicing techniques and skills to stay on top of the changes in the industry in order to provide the public with confidence, which is what USPAP (Uniform Standards of Appraisal Practice) has set forth.
Aside from 14 years experience in the appraisal industry, I combine old fashioned service with modern technology. Friendly service along with phone, email and/or text communications on report status.

---
Contact Information:
Phone: 210-237-8930
P.O. Box 724
Converse, TX. 78109
FAX: 866-670-6909
FRIENDLY SERVICE ALL THE TIME.
Thank you for viewing and God Bless.
FOR SALE BY OWNER?? GIVE ABQUEST APPRAISAL SERVICE A CALL TO HELP YOU SET YOUR LISTING PRICE!

For Sale By Owner
http://EzineArticles.com/?expert=Anita_Batty